The Arrow Valley Country Park is arguably the area's loveliest open green space: 900 acres including a 29 acre lake into which the Arrow River disgorges; fully accessible wildlife habitats and a visitors centre complete with a spotlessly clean cafe and warm, welcoming toilets. But don't just take our word for it, come along and smell for yourselves!
A Happy Medium?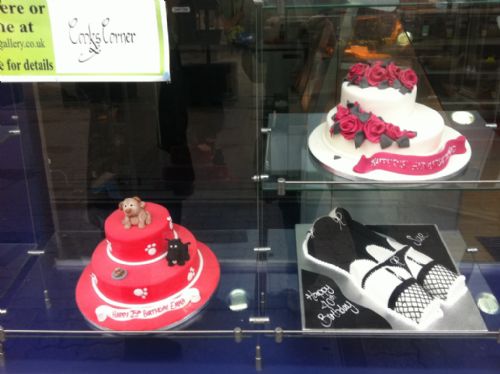 These delicacies are representative of the craftsmanship and attention to detail that goes into local baking
*Terms and conditions apply
If you fancy a snack, meal deal or even something substantial then look no further than the Three Counties based Happy Medium chain of 'Bun' pubs. Offering a real compromise between traditional values and genuine microwaveable pub grub all dished up in a relatively relaxed family environment. Meal deals come as standard* with Wednesdays being the now traditional Curry Night - 52 nights a year! - to try our Balti flavoured bangers and mash simply pull over when you see the sign of the Cheerful Clairvoyant.

'Small booth, seats six – more if you remove the cruet and oversized menus, individual wall mounted plasma, sound down, soap dish central. Only place I know where you taste the pop before accepting the can. Maitre'd has a certain diffidence of manner but when she prepares to pull a pint it's like Otis or Rhianna stepping up to the mike, totally focused and bang on the money'.

At one point 90% of the World's needles were made in the town, surrounded as it is by haystack making countryside. They still use irony to make the needles. Nowadays there is the Forge Mill Needle Museum although trying to find it via the cloverleaf interchange is like trying to find....

But if you stop and think about it, I mean actually stop what you're doing and think about it - then that's a lot of needle. Imagine if you can the ranch hands wife in the mid west, putting down her gingham long enough to patch up the gaping crotch of her cowpoke husbands dilapidated britches, or the WWI fusileer, replacing an epaulette dislodged by shrapnel at Passchendaele, or perhaps even Vivienne Westwood in SEX, her 1970's London Punk Boutique sewing studs on a pair of bondage combat pants that might later be worn by Mick Jones in a promtional video by the Clash - at least two of them were using a needle made in Redditch.

The Alve Church Gospels (10th century)
Created in the 10th century by monks at Bordessley Abbey, the Alvechurch Gospels have, over time become known as the lesser known cousin to the Lindisfarne Gospels. Highly textured - whilst the images are highly ornate and utilised the finest ground pigments, the text is primarily in Lamp Black, and written in insuler art – a combination of Anglo- Saxon and Celtic elements (or Hiberno – Saxon art).

The manuscripts were kept at Bordessley until the dissolution of the monasteries in 1540 when they were moved to nearby Alve Church for safe keeping. Believed stolen and destroyed they were lost until the mid 19th century when they were discovered by schoolboys searching for balls overhit from a nearby golf course in crypts at nearby Beoley Abbey. At this point they were transferred to the Birmingham Library Archive for restoration and there they remained on public display until the late 1960's when they were sold to fund the building of what became Birmingham City Library (Central Branch).

They are currently in a private collection.
Is There A Riot Going On?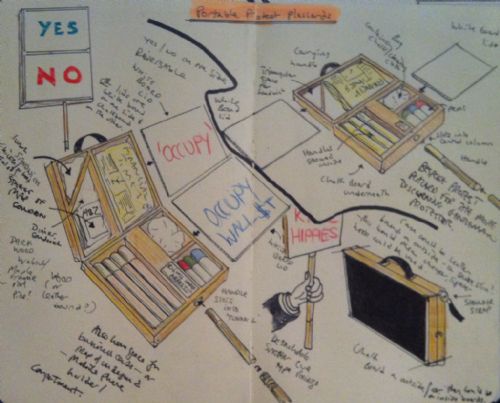 D.I.Y protest placard for the more discerning dissenter. Converts a briefcase into a sign in less time than you can say...
During the riots that swept across Britain during 2011, events in Redditch appeared to pass unnoticed. Although the amount of damage in the town centre appeared negligible, this was at least in part due to uncertainty over what damage already existed prior the disturbances. Nonetheless a notable flashpoint occured when Robert 'Bob' Masterson, from Rookery Farm, Tardebigge, attempted to drive a full tractor load of straw into the town centre, ostensibly to cause disruption and block rush hour traffic. Turned back by the West Mercian Constabulary Masterson got as far as the Batchley estate before reversing his trailer into the Quatre Staglioni Chinese Restaurant which subsequently caught fire. Fortunately no one was hurt and in court Masterson claimed that the adjoining Internet Café had been his intended target and that furthermore his actions were not simply mindless looting as had been claimed in the press but instead an attempt to raise awareness of the anniversary of the Luddite Uprising 200 years previous.

In the 1811 Mercian uprising, the protests had been led by Ronald Masters, a distant relative of Masterson. Whilst Masters had thrown a ladder into a Stcking Frame, Masterson himself claimed to be out of sync with the digital age and that his resultant actions were a mixture of online frustration, slow broadband width and poor eyesight. The defendant, who asked for three counts of interfering with a heifer to be taken into consideration, was sentenced to 18 months in prison, which he duly served in nearby HMP Hewell Grange.

*Batchley achieved a small level of notoriety during the riots of 1981,which led to it being known somewhat fancifully as the Redditch 'Bronx'. Nowadays it is a semi affluent suburb enjoying the benefits that only the closeness of open countryside can bring.
Four Reasons Why Redditch Isn't Rubbish!
#2 a vision of the future?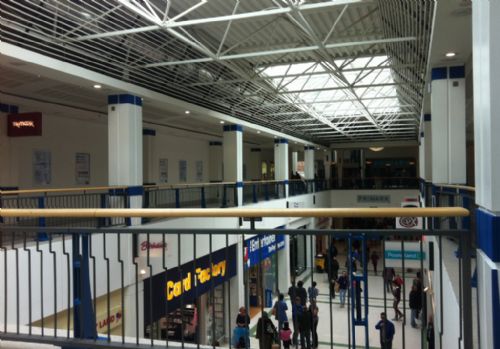 Named Red-Dych and nicknamed 'the Red itch' or 'the ditch' this most stoical of towns has often been the target of cheap jokes, including, from back in the day the infamous postcard series Roundabouts of Redditch.

Lovingly rebuilt in the 1960's around a 'string of pearls' style road network in order to rehouse Birmingham's slum overspill, Redditch (pop 75,000) was at one time considered progressive. The town boasts the reputedly haunted Kingfisher shopping centre (see left) opened in 1976 complete with, for many years, reportedly living palm trees which have now sadly been removed. It is perhaps worth noting that Bromsgrove is nearer Birmingham but the slum people still chose Redditch.
Morris On
It is a little known fact that in the late 1960's Birmingham's 'mafiosa' would often hide out in the Worcestershire badlands. Disguised as Morris dancers they would lie low until the heat cooled down back up the M5. At one time the Black Pear team operating out of Crabbs Cross was made up almost entirely of 'cleaners' from Bearwood.
A Nice Pear #2
Top topless model Corinne Russell (18) also has links with the town having brief-ly lived there. Incidentaly Phwoar-inne was once voted amongst the top 50 page three girls of all time by a certain popular national 'red top', although not apparently by a somewhat harder to please local newspaper! Well done Corrine, a very nice pear!

John Henry Bonham, singer with 70's pop group Led Zeppelin (1948 - 1980), character actor Charles Dance (b 1946) and the West Bromwich Albion footballer Stacey Caldicott (b 1974) were all born in Redditch.

The comedian Rik Mayall (b 1958) spent his early years in the town whilst John Taylor (b 1960) of 80's rockers Duran Duran went to the towns Abbey High School.

Tom Paddock (1822–1863) who was also known as the "Redditch Needlepointer", became the champion heavyweight bare-knuckle boxer of England in 1856.