the Barbed Wyre
Worcester
Just off Motorway 5 lies the cathedral city and county town of Worcestershire. Skewered from north to south by the River Severn (Sabrina in Latin and named after a nymph who drowned after throwing herself in the river) is believed to be the second longest in the British Isles. Pitchcroft, where Charles once parked his cavalry now doubles up as a flood plain and it is said that it is possible to smell the rotting fish left stranded by the receding river. The city centre is itself unremarkable, a generic mix of charity shops, cafes, mobile phone outlets and ubiquitous high street clothes shops - although look hard enough and you might find a book shop.

There are art galleries galore: craftily on the outskirts at Bevere and more interestingly at Worcester Museum & Art Gallery, Movement in a converted gentlemen's lavatory on Platform 2 Foregate Street Train Station and the PITT Project Space, housed in a former slaughterhouse on Chestnut Walk. Thespian types are directed to the Swan Theatre and music lovers wishing to get the Ceiligh started with some 3/4 time English Country Dance tunes should head for Huntington Hall.

Sport fans can enjoy first class cricket at New Road, second class Football at St George's Lane Kidderminster Harrier's Aggborough 'stadium (Worcester City are groundless and therefore playing in exile), or grimace as the perennially relegation threatened Worcester Warriors Rugby XV scrum down at Sixways.
Worcester Is More Than Just The Capital Of Worcestershire. To Some It Is The Capital Of The World . . .
Should the city go even further and become an independent state - and would the rest of the county be better off if it did?
Beyond the city centre blink the lights of the Worcester badlands; Climb Rainbow Hill and the land drops away to expose high five lo rise blocks, one side of each sporting Sky discs like a row of full stops – rent to buy red bricks basking in the late afternoon sun seem to rear up and snarl at the traveller passing through the Lakes on his way to Ronkswood, Dines Green and even Tolladine; indeed, Tolly Dollies were once considered quite the local beauties until being upstaged by exotic foreign students from as far afield as Stafford and Corby.

A populist daily newspaper once identified Worcester Woman as being the signifier of Middle England. Today's Worcester woman is more likely to be loitering in one of the city's bacchanalian cattle markets, mixing Jaeger bombs with a jaundiced World view, whilst leering down from the summit of a pair of 6 and a half inch patent red stilettos.

Twinned With Gaza City?
In 2009 there was a somewhat suprising attempt by Gaza City, the Palestinian capital to become twinned with Worcester. On the surface the two communities would appear to have little in common, one being a fractious, shell of a city struggling to cement it's identity under overwhelming pressure from a more powerful neighbour and the other being a war torn City in the middle east. Sadly the proposal, which was passed by 35 votes to six by the P.L.O was subsequently turned down by Gaza City's twinning association.

They had seen how a leafleting campaign on the Malvern Road – extending as far as Lower Wick, had met with a sustained series of retaliatory cold calling in the Diglis area of the left bank, this in turn had led to voices being raised in the Guild Hall condemning it as being 'out of all proportion to the original actions'.

Ali Al-Masri, Hammas member of the Palestinian Parliament commented "This is a humanitarian gesture and not a political move. If there are some positive outcomes for the people of Worcester then I am 210% behind the idea". He continued "People in Gaza are very lucky to live in a very peaceful, apolitical environment and it is easy to forget about those who are less fortunate".

Accomodation
There is a homeless shelter (St Pauls) situated on Tallow Hill whilst Maggs Day Centre(01905 25027) on Deansway offers cheap food, a shower, clothing and a toilet for the down at heel. Maggs was named after John Maggs, who was found dead in what is now the Fownes Hotel on City Walls Road.

The Fownes Hotel was once a glove factory founded by John Fownes. The family were descendents of the Norman Knight Willian Fownes who settled in Britain via the 1066 Norman Invasion.


Arty types looking for comfortable lodgings at affordable prices are advised to head for Barbourne's Band B, a 10 minute walk north of the city centre. Band B believes in a bartering system, exchanging hospitality for artwork so if you are not an art producer then sadly your cash is no good.
Worcester to get Second River?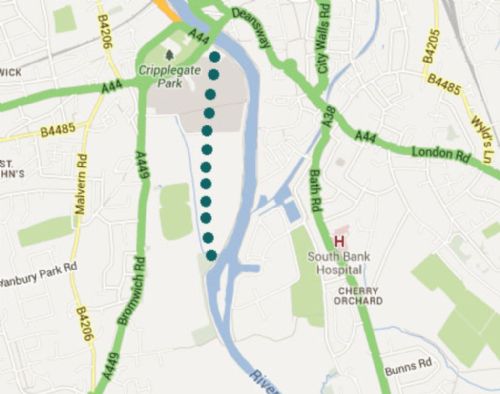 The proposed route for Worcester's North flowing second channel is shown in large blue dots. The two weirs were to be placed at the north and south points of Sabrina Island.
In 2010 a proposal was submitted outining plans to give Worcester a second river. After due consideration this was out voted in favour of a scheme that would have involved widening the Severn in order to split it into two channels, the current current heading south but with an opposing current introduced into the left, or North channel. This was to have been an attempt to ease river traffic which, at the junction of the Worcester - Birmingham canal had become critical with 'traffic jams of vessels stretching back to the Diglis Hotel during peak times.

The newly formed central island was to have been christened Sabrina Island and would have formed a joint swan and owl sanctuary, accessible only by boat.

The north current was to have been provided by two false weirs, one north of the cathedral and the Severn Bridge half a mile to the south. The Severn Bore would not have been affected and would simply have been directed into the north bound channel.

Night and the City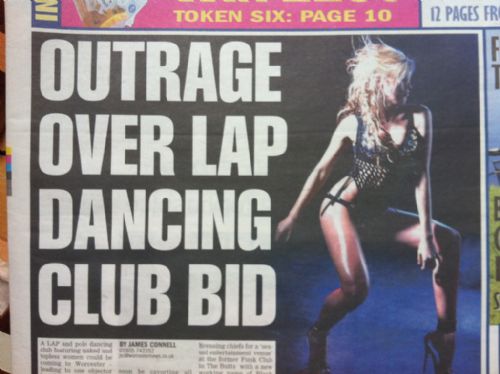 The ways of big city folk can seem at odds with the slower pace of life in the rural heart of the country.
The city's nightlife is reassuringly familiar with a vibrancy that only a university city can provide. Low beamed pubs, olde worlde clubs and street vendors serving burgers, kebabs and other locally sourced fare to those eager to taste all that the city has to offer before bringing it all up on the Cross*. However be warned, after 10pm the noise can get a little louder, the language a little juicier and the skirts a little shorter. There is also an alcohol ban in the city centre, but don't worry, that only applies to street drinking!

At the time of writing the city has no red light area.

*the Cross is a popular meeting spot in the city centre, frequented during daylight hours by headscarved, caffeine addled shoppers. However, under cover of darkness it is transformed into the wolverine, open air lair of tentative, tattooed farm boys and their scrumpyfied and stultifying paramours.