the Barbed Wyre
Wyre Forest
It is often said that the road to hell is paved with good intentions. In the case of the A449 that leads from Worcester to Kidderminster it is paved with speed cameras. Whether this is to deter the mildly curious from actually getting there is unclear because a town that once enjoyed World renown for its carpet industry, 'Kiddy' as it's affectionately known now appears somewhat threadbare.

Perhaps it was the rise in vinyl floor coverings, or the faux boho stained floorboard look that did for Kiddy, either way it had the rug well and truly pulled from under it. You can still buy quality here but for most the magic carpet ride is over.

Wyred For Sound?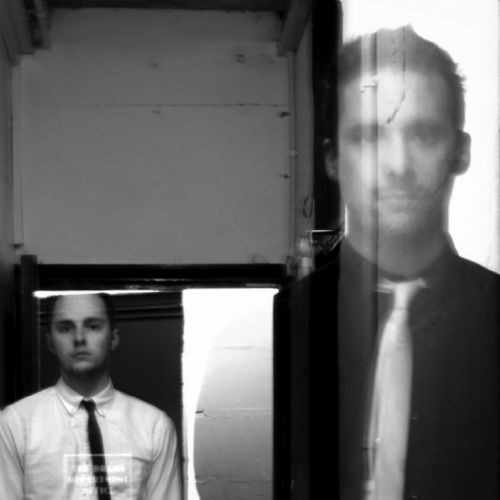 Farming 4 Boyz' Nik Wilton (synths, Bass Guitar and vocals) and Jaime 'Jammy' Dodger (percussion and styling) whose song Auto Barn was a minor hit in 1979.
The 'Kiddy' scene that burst into flame, flickering briefly before fading into the darkness of the late 1970's has, over time become nothing more than a footnote in the annals of pop history. But those who were there during that balmy summer of 1979 will have nothing but fond memories of sun kissed days and chilled out nights.

The scene grew out of weekend all nighters at the Sugar Beat Bar on Lower High Street. This in turn provided the impetus for clubs like Highwyre, Stableize and the fanzine ShedHead! plus the independent Shagpile Records label and shop and even a dress code emerging – one that predated the New Romantic movement by several years.

Whilst most of the bands and their music has long been forgotten it did produce one bona fide club classic in popular synth duo Farming 4 Boys's double A sided slab of simmering West Mercian Funk; 'Auto Barn' c/w 'Playing the Field' was released on their own Double Negative label and was described by Mister Minster in the Kiddy Inquirer's Showbiz column as 'an intoxicating mix of phat synths, percolating bass and a singer not afraid of the sound of his own voice'.

Auto Barn may have barely grazed the top 167 yet it remains as fresh today as it did back then, a stark reminder of what might have been. By the following spring Farming 4 Boy's had imploded, the Sugar Beat Bar was boarded up following the 'cash for beats' scandal and Shagpile disapeared overnight, literally, taking their entire stock and two regulars with them, both of whom were later released unharmed.

Suddenly a movement that had once declared itself to be 'Wyred for Sound' became increasingly fragmented with acts as diverse as the (sic) Kiddy Fiddler's Youth Orchestra (Saturday Night Beaver O.S.T), Underlay (Cutting A Rug E.P) and The Dalai Farmer (refused to tour believing the audience would come to him) dragging it's reputation out of the ditch and into the middle of the road.
Discography
Diz & the Diztortions Stateside 45 b/w Janitor Sale; Shag1
Dalai Farmer The Llama Ffarmer EP; Shag2-12"
Farming 4 Boyz Auto Barn b/w Playing the Field; DN01
Fag Magnet Fetish Major b/w Fisting at Witsun.; Shag3
Reluctant Sinners Ennui in Lye b/w Makin' Hay on the Dancefloor; Landfill01
Farming 4 Boyz Until the Cows Come Home b/w Harvest Tupper; DN02
Reluctant Sinners Hey Blondie b/w Baby's Got a Greased Gun;Landfill02
10% DADA DaDAdA Means I Love You b/w Noam Sweet Noam; Shag5
Underlay Cutting a Rug E.P; Sply1
Dalai Farmer Sound as a Pound b/w Coaliton of Love; Shag6
Cassie Ferguson The Lonely Janet Guide b/w Piglet Pie; Sply02
Fag Magnet What? b/w Spinster Disco; Shag7
Cassie Ferguson Dirty Martini b/w Theolonious Loneliness; Sply03
Should one find oneself unwittingly caught in Kidderminster town centre then relax, here is what you should do: travel north, by foot if necessary, via once lovingly vandalised but since delightfully restored and muraled underpass and you will reach the Severn Valley Heritage Railway. All retro engines, gleaming uniforms and anthracite - toot-toot! The smell of burning embers carries barely remembered memories of Thomas, Ringo, Percy and Orgreave and the promise of deliverance to pastures new; copses, streams, rivers, arboretums, ponies, peonies and comfy sheep - they will all stumble by as you are carried at a stately pace to Bridgenorth, a town in the north that has a bridge.

Wyre Forest & the Rock Steady Witch Trials
Sited just one mile north of the picturesque riverside town of Bewdley, occupying an area of almost 2,635 hectares and straddling both Shropshire and North West Worcestershire, the Wyre Forest is one of the largest remaining natural woodlands in Britain. Originally a Chase belonging to the Mortimer family (and mentioned in the Doomsday Book) it only became a forest when it passed into the hands of royalty – in this case Edward IV.

An area of outstanding natural beauty, it combines nature trails, fresh air and wildlife; including the small but colourful moth Oecophora Bractella, which has one of its few English populations here. After your walk why not relax in the modern day comfort of a visitors centre offering a comprehensive choice of both hot and cold drinks and a value for money snack bar. For good measure experience their renowned toilet block featuring well ventilated cubicles, each one containing enough soft paper to keep the most playful puppy amused and a cistern with a flush powerful enough to shift all but the most obstinate of loads. All in all you have a day out that is both challenging, informative and discreet.

For the wildlife enthusiast there are deer, quite a lot of insects plus both Pipistrelles and Daubentons, two brands of bat to eat them and it is the former of these vampiric natives of the Mercian night that are at least partly responsible for one of the more shameful episodes in the Forest's history. The 12th century witch trials held in the nearby village of Rock found in favour of the Crown (Rex v Reynoldson and Rex v Wayde) where the CPS of the day provided evidence that by night two unfortunate women turned into Pipistrelle bats (familiars) and startled Middle Age woodsmen logging in the chase.

The forest's adders have been the subject of a notable study by Sylvia Sheldon.

BHG and the KAF Collective
I cannot finish without mentioning the Boars Head Public House and the first floor gallery of the same name (see box on right) - winner of the Rock the House award for small pub/venues 2013 - well done! Indeed Kiddy has a thriving art scene, with festivals, exhibitions etc and the KAF collective setting the pace and leading the way - something worth risking a speeding fine to experience?....well no, not really, because with a ringroad that actually cuts through the town centre Kidderminster welcomes careful drivers!